Our Story
Learn about each member of the band.
Paul / "Bruce 'The Boss' Springsteen"
Paul grew up in a musical household with parents that both played piano and father who sang. Along with his older brother Hal, Paul and he started their first sibling band along with several other neighborhood kids living in the "burbs" of NYC at the age of 8. "The Monuments" ROCKED! Paul sang and played drums while his brother played bass. Unfortunately, "the record company Rosie, just gave me a BIG advance!" (Bruce Springsteen "Rosalita")….were not the words The Monuments would hear. So it was back to taking lessons in piano, drums, guitar, banjo and eventually at the age of 14 the harmonica – which would become his lifelong instrument and passion.

It was while living in NYC after college and in his early 20's thru late 30's that Paul got serious about the blues idium, playing harmonica and taking lessons with the one and only Bob Shatkin aka "Little Brownsville". Jumping on the subway and heading over to Brooklyn to meet Bob every week for Chinese food (where Bob lived and his fee for lessons), Paul honed his skills as a player and became a master blues harp player. At his instructor's encouragement, Paul began cutting his teeth at the very popular and hot open mics in NYC, like LeBarBat, Chicago B.L.U.E.S., Wetlands, Nightingales, Mondo Cane and Terra Blues in Greenwich Village.

After the passing of his mentor and friend Bob Shatkin, Paul was honored and asked by the New School University and the prestigious Guitar Study Center to teach their highly acclaimed and selective Blues Harmonica class and passing it on - something Bob was very passionate about, Paul taught many students at The New School University the magic of the blues harp! It was a chance meeting at the Columbus Avenue Street Festival in NYC's upper west side that Paul met and started a musical partnership with Piedmont Blues legend "Carolina Slim" and performed on several occasions with Slim, including one afternoon at rush hour in NYC's Grand Central Station – to this day his largest and most nerve racking crowd (750,000 people each day pass through Grand Central Station). For some unknown reason and still, to this day unclear, Carolina Slim gave Paul the moniker of "Little Abraham".

After 9/11, which greatly affected Paul's life directly, he relocated to South Florida where he re-connected with his lifelong friend and incredible drummer Cary Stadtlander, then a member of Amp'd. Cary invited Paul to come down to rehearsal one night, hang with the boys and play some harp. Having never been much of a singer outside of the shower, it was his new friend and incredible vocalist of then Amp'd, Chris Lozada who taught Paul how to sing and be a front man. Chris stepped down from Amp'd and the guys tapped Paul to take on the role of front man for Amp'd. Paul credits Chris with every bit of vocal power and stage stewardship he embodies and entertains crowds with today. If Chris is ever around at a BOSS Project show, guaranteed Paul is trying to get him to come up on stage for a song or two.

After several years of playing the bar and club circuit around south Florida, Paul, Cary set out on a new mission – The BOSS Project: A Bruce Springsteen Tribute. Since first hitting the stage in 2013, this band has thrilled, filled and brought Bruce Springsteen fans to their feet dancing and singing the night away to the non-stop energy of their tribute to Bruce Springsteen and The E Street Band.
Paul has also had the opportunity to collaborate or teach with several incredible musicians including Eric Bazilian (The Hooters), Kim Wilson (The Fabulous Thunderbirds), Adam Gussow (Satan & Adam), Debbie Davies, Paul Mark (Paul Mark & The Van Dorens), Terry Manning, James Cotton and of course his current band mates in the heart stoppin', noise makin', fist pumpin', love makin' Viagra takin' BOSS! PROJECT! BAND!
Steve siciliano / Guitar - "Steven 'Litte Steven' aka 'Miami Steve' Van Zandt"
Cary / Drums - "Max 'The Mighty' Weinberg"
Cary Stadtlander began playing drums around the age of 10 in the basement of his home in Pittsburgh, PA. He immersed himself in the craft of drumming by playing along with records from Led Zeppelin, Lynyrd Skynyrd, Jimi Hendrix, Rush and Black Sabbath. The Funk music of the late 1970s also influenced Cary's playing while listening to groups such as The Commodores, Wild Cherry and Earth, Wind and Fire. He joined up with other budding musicians in the area to learn to play with others in a band and do some local gigs. Throughout High School Cary was in the Symphonic Band, Orchestra and Drum Captain of his High School Marching Band. While at Penn State University, Cary, along with J. R. Mangan, Gene Woods and T.G. Crane formed the band Stolyn Hours which quickly became the most popular bar/party band on campus. Stolyn Hours recorded an original album called Scattered Winds on Red Dog Records. Later, Cary played with the Love Zombies of Hoboken, NJ and then moved to Florida.

In 2004 Cary joined up with Chris Lozada, Bob Morgan and Carlos DeJesus to form Amp'd to play in the South Florida bar scene. Amp'd had a few incarnations but the lead singer spot went to lifelong friend, vocalist and harmonica player, Paul. Cary and Paul went on to form The Boss Project: A Bruce Springsteen Tribute, in late 2013 along with then Amp'd Guitarist Randy LeVenia. Cary cites his major influences to be John Bonham, Neil Peart, and Dave Weckl.
Mark Leach aka "MUGGIE DOO" / Hammond B3 - "Danny 'Phantom' Federici"
Mark Leach AKA "Muggie Doo" is a Hammond B3 master/ Singer/ Multi-instrumentalist. Mark was the longest standing member and band leader of "The Buddy Miles Express" until Buddy passed away in 2008 (Buddy Miles co-wrote, recorded and played with no other than Jimi Hendrix) and all that is related to his career and history. For those of you who have somehow missed the legendary MARK LEACH-aka-"MUGGIE DOO" rippin' the roof off with his Hammond B-3 organ for the past thirty plus years, that's understandable. But for those of us who have been there in the audience watching Muggie, we see it a little differently. He's spinnin', dancin' and clowning at the helm of his 1940 high-rise HAMMOND ORGAN, and playing licks that's got our jaws dropped open like Lil' Abner's first trip to New York City, and makin' sure you hear it! Performing and recording with artists like Buddy Miles, George Duke, Anna Popovic, Chuck Rainey, Micki Free, Greg Allman, Peter Frampton, The Pastorius brothers, Micki Free, Leon Hendrix, Riki Hendrix, Bernard Allison, Robert Lockwood Jr., Tommy Shannon & Chris Leyton of Stevie Ray Vaughan's "Double Trouble, Bernard Allison, Bobby rock, Steve Smith, Barry Whites' "White Heat", George Moye, Cornell Dupree, Bruce Hornsby, Johnny Taylor, Buzzy Lindheart, Dick Dale, The Fabulous Techniques, Brian Auger, Frank Sinatra Jr., and the like, Mark has definitely been leaving his "Mark" on the live music industry for many years with well over 10,000 national and international performances. Now, Mark is such a key part of the soul and "awesomness" you'll see and hear filling in those beautiful tones in The BOSS Project: A Bruce Springsteen Tribute, not only replicating the brilliance of Danny Federici from The E Street Band, but doing it with the absolute essence that is Mark "Muggie Doo" Leach!
"PROFESSOR" STEVIE MARTINEZ - PIANO/KEYS/VOCALS
Steve Martinez is currently employed with Coastal Carolina University in Conway South Carolina as music faculty instructing Electric Bass and Double Bass. In April 2016 Steven was honorably discharge from the US Army where he served in the ARMY Bands as a Bass performer for four years at Fort Bragg, NC. Through this experience Steven has performed from Washington, DC, to West Palm Beach, FL, and abroad. Steven is also an active bassist and keyboardist performing with the The Boss Project: A Bruce Springsteen Tribute, Long Bay Symphony Orchestra, various music ensembles of jazz, folk and rock and private music instruction for students of ages 10 to 50. Steven Martinez has received a Bachelor of Art in Music Degree from Coastal Carolina University and a Master of Music Degree from the University of Memphis.
Tom / Bass - "Garry W. 'The Tennessee Terror' Tallent"
Tom began playing Bass in the 4th grade learning the stand up bass and picking up electric Bass guitar at age 14. He has played with numerous bands in New York both amateur and professionally. Prior to moving to Florida he was a very accomplished session player for several studios in NY. After movng to Florida in 1992 he played in many bands including the Whistling Moon Travelers, Zepplica, and now The BOSS Project.
His influences are varied and he enjoys learning and mastering all styles of the Bass including Funk, Slap, Pop, Tapping, Standup Slapping and Fretless. His influences include McCartney, John Paul Jones, Wyman, Jamerson, Lesh, Lee, Pastorious, Hamm, Flea, Wooten, Kaye, Collins, Mingus, Graham, Pattatucci, Sklar, Wilkinson, and many others. Tom is a Lt. Col. Medical Officer in the Florida National Guard with 1 deployment to Afghanistan and 2 to Iraq with a bronze star nomination. He is a Physician Assistant in Urology and holds a Law Degree from Nova University. He is a proud owner of an Alembic series II and a custom Tobias 6 string signature along with many other axes. He has been with The BOSS Project from the beginning and loves replicating Bruce's music live.
John / Sax - "Clarence 'The Big Man' Clemons"
John Harden is an adventurous open minded saxophonist who is always striving to push himself. Hailing from Indianapolis, Indiana, John recently relocated to Miami, Florida. His music and sound encompasses many genres but the strongest is Jazz, blues, and Gospel. John's early influences were Dexter Gordon, Sonny Rollins, Grover Washington, Jr., and Stevie Wonder.

"My only goal is to create powerful music that will touch people's souls".

John has spent years mastering his craft; that coupled with his many experiences has shaped and molded who he is. He started performing professionally at age 15. He obtained a B.A. in jazz studies from the University of Louisville's Jamey Aebersold Jazz Studies program in 2006. While at U of L he was able to study with the likes of Delfeayo Marsalis and Bobby Floyd just to name a few.

Since relocating to Florida, John has already enjoyed performing at several events at Avenue D with various artists from Miami. He has performed at Ft. Lauderdale's concert series and for local jazz legend, Alice Day, at the Miami Garden's concert series. John also was a regular at the B. B. King's Blues Club All Star Band in West Palm Beach. So much more is ahead for John as he prepares to launch his new web site, second project and dives into the world of music production.

Currently, John is enjoying igniting Springsteen fans throughout the state of Florida and beyond, as he and his bandmates from The BOSS Project: A Bruce Springsteen Tribute continue to tour and perform live for thousands, while he wows them with beautiful and soulful renditions of Clarence Clemons trademark licks!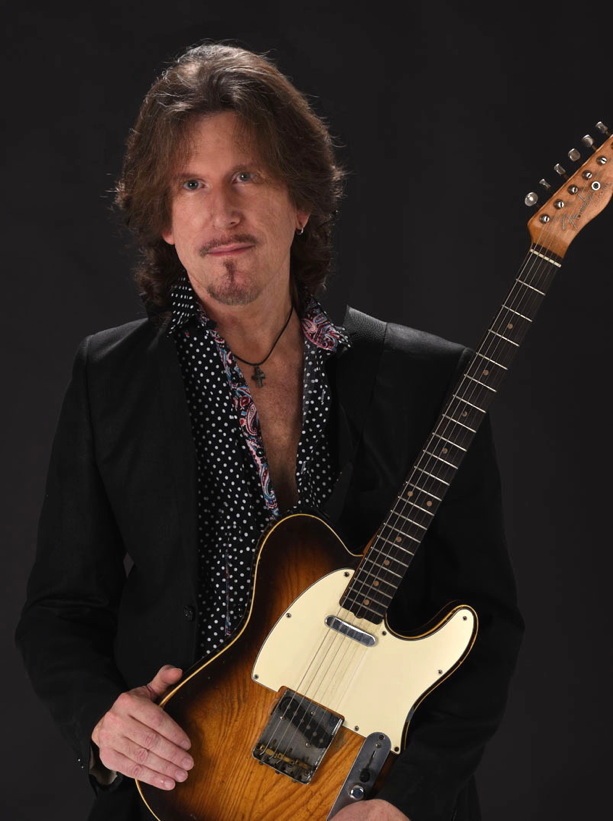 WAYNE HOOD / GUITAR
Growing up in South Florida and playing in local bands from the age of 13, Wayne became a professional guitarist after high school and never looked back. Working nightclubs all around the country from the early 1970's on, and playing a wide variety of Soul, Rock, Funk and R&B, Wayne perfected his craft and kept honing his skills and became the band leader of some of the top bands in Miami/Ft. Lauderdale. His band Wolfgang recruited a number of musicians that would later find worldwide fame. Singer extraordinaire Bobby Caldwell (What You Won't Do For Love) had a stint with the band and Wayne appeared on Bobby's debut album. Other luminaries from Hall & Oats (Charlie DeChant) to Wayne Cochran's CC Riders played in Wolfgang's smoking horn section.
Wayne has been an active music producer/engineer for the last 15 years. He teamed up with legendary songwriter Richie Supa (Aerosmith, Bon Jovi, Tom Jones, Ozzy Osbourne) in 1999. Together they wrote and produced songs for Steven Tyler, Pink, Richie Sambora, Desmond Child, Mike Pinera and a host of other amazing recording artists. Wayne's arranging and production skills continue to be in demand by artists all over the country.
Wayne's Telecaster playing captures all the fire and passion that explodes from the E Street guitar slingers. This guys the real deal!